Verified as HIPAA Compliant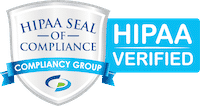 JP Technical has undergone an independant verification process for our HIPAA Compliance Measures

The HIPAA Seal of Compliance has become the healthcare industry standard for verification. Federally-mandated HIPAA standards, regulated by the Department of Health and Human Services' (HHS) Office for Civil Rights (OCR), are fully addressed and incorporated into an effective, organization-wide compliance program. See the Compliancy Group Website for some reviews.